Please note
we no longer offer the Digital Perm treatment
Digital Curling

in

Newcastle upon Tyne -

also known as

Digital Perm

Momoko Digital Curling is by far the latest and most advanced approach for creating soft manageable curls.

For many people, achieving a soft tame curl takes a lot of styling, which means a lot of product and heat. The results might seem good but putting your hair through this on a daily basis causes damage and does not give the hair time to recover.

If you're looking for a way to achieve smooth waves without the daily struggle of hair tongs, then book an appointment for a Digital Curling treatment.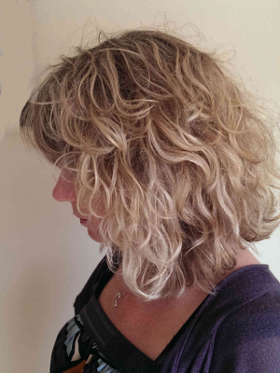 With this Digital Curling treatment, there is now a way to transform straight hair into soft manageable curls.
Gone are the old school perms often associate with damaged hair and poodle-like results.
The Digital Perm gives you a loose boho look instead.
The cost for this treatment is £350.
For an appointment please telephone: 01912619651.
A £50 deposit is required. The deposit will be refunded in full if you cancel at least 48 hours before your appointment.
If you have not had Digital Curling at our salon before, then we will need you to come in for a free consultation with the stylist who will be doing your hair, so they can assess the condition.
Please note: This treatment cannot be used on hair that has been relaxed, has had a traditional cold perm or has henna. Also if you have had a Brazilian Blowdry you will need to wait 4 months until the coating is completely out of the hair before you have this treatment. Finally the result on Afro-Caribbean is poor.
Please note
we no longer offer the Digital Perm treatment
Frequently Asked Questions
How does Digital Curling work?
Digital Curling is different from traditional perms in that it has four separate steps where the hair is protected and nourished before any curling solution is applied.
The hair is softened and then rolled up in rods. Each rod is then connected to the Digital Perm machine which sets the curl with digitally controlled heat. When the hair is 80% dry, a neutralising solution is applied. Finally the hair is rinsed and styled.
Can I only have the middle and ends curled?
If you have long hair and you'd like to wear your hair sleeker on top and wavy only at the ends, it is also possible to have a wave from the mid-lengths to the ends only.
How long does this treatment take to do?
This treatment takes approximately 5 hours to do.
Can I have the Digital Perm done again?
Yes, whenever you feel that your curls need a boost, you can have this treatment repeated again without damaging the hair.
Can people with curly hair have this treatment done on their hair?
Yes, this treatment is not only for people with straight hair. If you have naturally frizzy curls, this treatment can smooth your hair into more manageable waves.
How long do the results last?
Depending on how healthy the hair is, after the first couple of shampoos the curl may drop by up to 30%
Following this, the curl will slowly start to drop as your hair grows. How long it lasts depends on the condition. For example the curl will last longer on healthy hair. If the hair is in good condition the results normally last around 3-6 months. As the hair grows out the curls can slowly become less noticeable.
The Digital Perm can be redone again when you feel your curls need another boost. Most people usually wait 6 months.
Can I have this treatment if I've had an allergic reaction to a perm in the past?
Unfortunately we will not be able to do this treatment if you've had an allergic reaction to a perm lotion.
How is Momoko Digital Curling different from traditional perms?
With Digital Curling we can achieved a long lasting soft curl. This was not previously possible with traditional cold perms which instead where good only if you liked tight curls. With traditional perms after just a few days soft waves would drop up to 70% which leaves you with hardly any curl.
With a Digital Perm the hair is constantly protected by the Momoko Pre-Treatments.
Furthermore Digital Curling differs from a traditional cold perm because it has more gentle ingredients.
Finally digital heat (digital thermal reconditioning) is used when the hair is rolled onto the rods.
The end result is curls without the frizz of the old traditional cold perms.
Can I have my hair Digitally Curled if I am pregnant?
Yes, the treatment is completely safe to have during pregnancy, however please note that this is a long procedure which takes around 5 hours and also some people might find the strong perm smell overwhelming.
Can I have this treatment if my hair has been Japanese Permanently Straightened?
Yes, because it is compatible with Japanese type Permanent Straightening Treatments.
Does it matter what kind of hair cut I have?
The Digital Curl result will look better on hair that has been layered and may not look as effective on long heavy layers which can pull the curl out.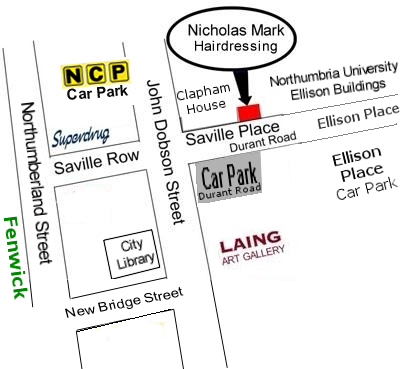 After the treatment is done how long should I wait before washing or getting my hair wet?
The hair takes 48 hours to completely form and for this reason you must not shampoo or get the hair wet for 48 hours.
Is there anything else that I should not do after the treatment?
You must not put any pressure on the hair, for example you must not put the hair up or in a pony-tail or use pins, clips, bands or put hair behind your ears for 48 hours. We recommend you use face wipes instead of washing your face with water. It's also recommended that you keep your hair dry by wrapping it in a towel when having a bath or shower. Finally avoid exercising, swimming or excess sweating for 48 hours. After the treatment is completed you must not blow-dry the hair straight or iron the hair for 1 week.
Will I be able to have my hair curly some days and blow-dried straight at other times?
Yes, but we don't recommend you have this treatment if you intend to regularly straighten your hair. Having your hair digitally permed, can make your hair much more difficult to blow-dry straight, as you will need extra time to pull the curl out. Finally regular straightening can damage the hair.
How can I style my hair if I would like a tamed look?
If you would like a more tamed look, instead of beach curls, you will need to spend a little bit more time styling your hair. Apply one of the styling products mention above, twist sections of hair around one of your fingers in ringlets and then release each section. Finally use a diffuser to dry the hair. The result will be a more tonged look. Digitally Permed hair also needs to be styled, but you must not over dry the hair. Also the hair will look better if you avoid washing it every day. Finally only comb the hair when it's wet to stop it becoming frizzy.
When can I colour my hair?
You can colour your hair two weeks before or two weeks after the treatment. Please note that the treatment can also make hair colours fade.
What else is Digital Curling also known as?
Digital Curling is also known as Digital Perm, Boho Curl, Boho Perm, Digital Thermal Reconditioning, Heat Perm or Hot Perm.
Where did the Digital Perm come from?
The Digital Perm was originally invented in Japan to create relaxed tousled waves.
What products should I use?
Use a protein/moisturising shampoo and conditioner. Products that say for coloured or chemically treated would also be fine to use on digitally curled hair. Avoid styling products that are for taming frizzy hair as these can be too heavy or gunky and will weigh down your curls. Look for a mousse, a light cream or lotion which is specifically for permed hair to encourage curls.
Will the result be perfect curls as when I use curling tongs?
Curly hair that is washed and just left to dry naturally or dried with a diffuser may appear messy to some people who are not used to having curly/wavy hair. However with a little bit of styling you can get a more tame look. If you where to leave the hair to dry naturally or use a diffuser the result will be a natural looking curls but will not perfect as when using curling tongs.
Which Digital Perm treatment do you use?
There are several Digital Curling systems e.g. Momoko, Paimore and X-Tenso. We have chosen to use the Momoko Digital Curling treatment because it adds protein to repair and restore the hair's condition. Finally Momoko has a gentle formula, the pre-treatments protect the hair throughout the service and unlike other treatments can even be used on bleached or highlighted hair.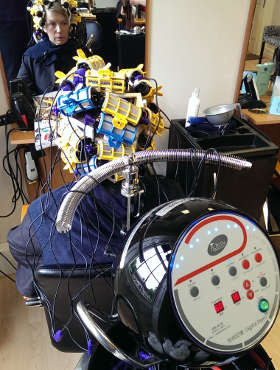 Please note
we no longer offer the Digital Perm treatment