We cannot accept emails at the moment
If you would like to get in touch please telephone: 0191 2619651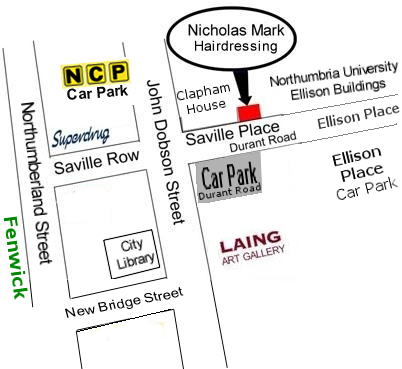 Nicholas Mark Hairdressing
5 Saville Place, Newcastle upon Tyne NE1 8DQ
Telephone: 0191 2619651
Directions: The hair salon is in Newcastle city centre just 2 minutes from Northumberland Street. Find Superdrug and H&M on Northumberland Street, walk into Saville Row, cross the traffic lights at the end of Saville Row, walk straight past Clapham House, go up the brick steps or the side path and you will find the Salon at 5 Saville Place.
For more directions please see how to find the salon.


Nearby Metro stations
Both Newcastle city centre metro stations are very close to the salon.
The salon is just a 4 minute walk from the Monument metro station and a 3 minute walk from the Haymarket metro station.

We cannot accept emails at the moment
If you would like to get in touch please telephone: 0191 2619651