BALAYAGE HAIR IN NEWCASTLE
Nicholas Mark Hairdressing is a Newcastle city centre salon. Below you can find out more about Balayage and how our stylists can apply the technique to your hair.


Is Balayage suitable for everyone?
Balayage can be customized to compliment any hair or eye colour. It can also be applied to all lengths of hair from long beachy locks to short bobs. It's a versatile method of hair colouring which makes it appropriate for everybody. If you are looking for a change or would like to refresh your colour our stylists have you sorted.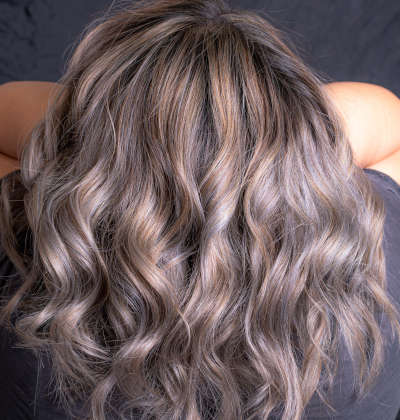 Balayage is still one of the biggest hair trends which looks like it is here to stay.
A team of hairdressers providing professional Balayage hair colouring
Frequently Asked Questions
(FAQ)
What Is Balayage?
Balayage is a hairdressing colour application method. With the balayage technique, hair colour is painted directly onto sections of the hair often without the use of any foils. Usually, this method is used to achieve a natural lightened look. However, the same technique can be used to create darker shades.
Is Balayage high maintenance?
Balayage is a fairly low maintenance way to go lighter. It is meant to look grown-out as most of the product is usually applied several inches down from the root area. Instead, it is applied to the mid-lengths and ends. This way the root regrowth will be less noticeable than with traditional foil highlights. It is a kind of highlighting technique that does not entirely touch the root area to allow for a more natural regrowth. For some clients, the colour can last up to twelve months with the roots softening as the hair grows out. While other clients will come back to the salon after 6 - 8 weeks for a toner to refresh the hair colour by neutralising any warm tones.
Are there any disadvantages
1. If you have naturally dark hair you may find that after the hair is made lighter the hair may appear to have orange/red warm undertones. If this is undesirable, the hairdresser will neutralise this with a toner. However, the toning effect is prone to fading away. You may find that you will need to come back to the salon every 6 - 8 weeks for a toner. This, therefore, results in higher maintenance.
2. Finally, because with the balayage technique the hair product is applied mainly to the middle and ends, there will be a risk of damaging fragile ends.
Is Balayage suitable for Afro hair?
Unfortunately, our stylists are not trained in doing Afro hair.
How is balayage different to highlights or ombre
Balayage is often mistaken for ombre or a dip-dye. With dip dye, the hair is dark at roots and light at the ends with no real blending between the two colours. Ombre has more blending between the dark roots and lighter ends gradually going from dark to light. With balayadge the hair has even more blending than the previously mentioned techniques with light and dark shades scattered all over and not just from the mid-lengths downwards. Thus giving a more suitable, seamless and natural look. The colour also looks less stripy when compared to foil highlights. For these reasons have made balayage popular and many clients are choosing it over ombre, dip dye or even highlights.
How is balayage done
Sections of hair are separated and the colour is painted onto each section with a sweeping freehand technique. Often the product that is applied to the hair is a pre-lightener. Once the colour has been lifted a toner is usually applied to the hair to neutralize any warm tones.
Is balayage still in fashion?
This look has been around for a few years now and is not showing any signs of slowing down. If anything, it is getting more popular and could last for a very long time.
If my hair is damaged can I still have this treatment?
The hair needs to be in a good enough condition for the lift which is required. It is not possible to colour hair that has been damaged. If you would like to find out how healthy your hair is, please feel free to book a free consultation with one of the above stylists at Nicholas Mark Hairdressing Newcastle. They will be able to examine the hair and advise you on your options for balayage hair colour. To book a free consultation you could phone us on 01912619651 or book a free consultation online by choosing one of the above stylists
Do I need to do anything before I come for the free consultation?
It's always good to bring plenty of photos to show the stylist what you would like to achieve. There are so many different names that can mean totally different things to stylists. Photos make it so much easier. If this will be your first time at the salon in Newcastle we recommend that you book a free consultation. Any photos that you can bring will help the stylist see which look you would like to go for.
It would also be good if you could come to the salon with your hair styled in the way that you would normally have it. This is because the stylist will often choose a different technique for someone who likes curly hair to someone who likes a poker-straight look.
How much does Balayage cost?
Balayage starts from £78. Sometimes there may be an extra charge for example if the hair needs to be toned. If you would like to confirm the price please book a free consultation with the stylist who is going to do the colour.
Will I need to come to the salon for a skin allergy test
Yes, if you have not been to our salon in Newcastle for a colour within the last 12 months. A skin test will be required even if you have had a skin allergy test, colour or highlights at another salon. You can come to the salon for a skin allergy test from now and up to 48 hours before your appointment.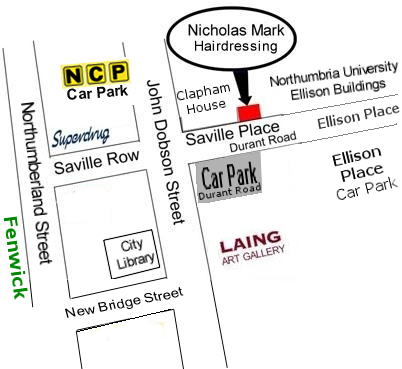 Nicholas Mark Hairdressing
5 Saville Place, Newcastle upon Tyne NE1 8DQ
Telephone: 0191 2619651
Directions: The hair salon is in Newcastle city centre just 2 minutes from Northumberland Street. Find Superdrug on Northumberland Street, walk into Saville Row, cross the traffic lights at the end of Saville Row, walk straight past Clapham House, go up the brick steps or the side path and you will find the Salon at 5 Saville Place.
For more directions please see how to find the salon.


Nearby Metro stations
Both Newcastle city centre metro stations are very close to the salon.
The salon is just a 4 minute walk from the Monument metro station and a 3 minute walk from the Haymarket metro station.