MEN'S HAIRDRESSERS
Choose a hairdresser from below:
A team of hairdressers providing professional men's haircuts
Nicholas Mark Hairdressing is a Newcastle city centre salon with a 40% male clientele. All stylists are experienced in cutting and colouring men's hair.
Men's hairstylist Greg - with more than 15 years experience
With a very busy schedule, it is so easy for barbers to feel like they have to rush the consultation. Some barbers only allow 10 - 15 minutes for a man's haircut and don't have time to give much feedback.
Greg however, can recommend a hairstyle. He usually starts by asking his clients to tell him what things they currently like and what they do not like about their hair. Finally, he'll want to know if there are any characteristics which their hair may have. By breaking down the style into various sections, he will be able to make sure that he and the client are in agreement.
If a total makeover is what you are after, then Greg is the hairstylist for you. Book a free consultation with Greg at our Newcastle city centre salon.
Men's hairdresser Dalton - with more than 20 years of experience.
Finding a barber who can do hair colours can be a bit tricky. Dalton however can do colours or highlights for men. He is realistic and will let you know if it's achievable or if it will take two or three sessions to get the hair colour right.
Regarding the haircut, how he'll cut your hair all comes down to the desired result. Scissors will be used if he needs to produce blunt ends. Unlike some barbers, he might opt for razor cutting the hair - particularly if you are looking to have long messy ends. Dalton may also choose to razor cut the hair if it's extremely thick and you need softness.
Please note all colours require a skin allergy test at least 48 hours before your appointment. You will still need to come to the salon for a skin allergy test even if you have had a skin test or colour at another salon. You do not need an appointment for a skin test because the skin test only takes two minutes to do. You can simply walk in most days between 10:30 am - 4:30 pm (closed on Sundays and holidays).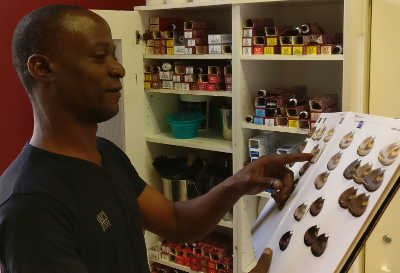 Hair colouring for men
Men's barber Claudia - with more than 10 years of experience
Claudia has worked in other barbers in Newcastle. She is very experienced in high fades, tapered haircuts, undercuts, textured and disconnected men's hairstyles.
With this considerable experience, she will be able to help you find a brand new haircut to try out.
Men's hairdresser Mary - with more than 10 years of experience.
Mary is very skilled at short traditional hair cuts for men and unlike most barbers, is also trained to cut long hair.
Classic men's cuts, disconnections, fades and undercuts have become very popular in the past few years. If you're not sure what the correct term is for the particular style that you're looking for, just bring in a picture and Mary will be happy to help you.
Ask Mary to suggest a hairstyle. If she thinks that the haircut will not suit you, she will let you know why or may talk to you about which parts of the haircut can be reproduced.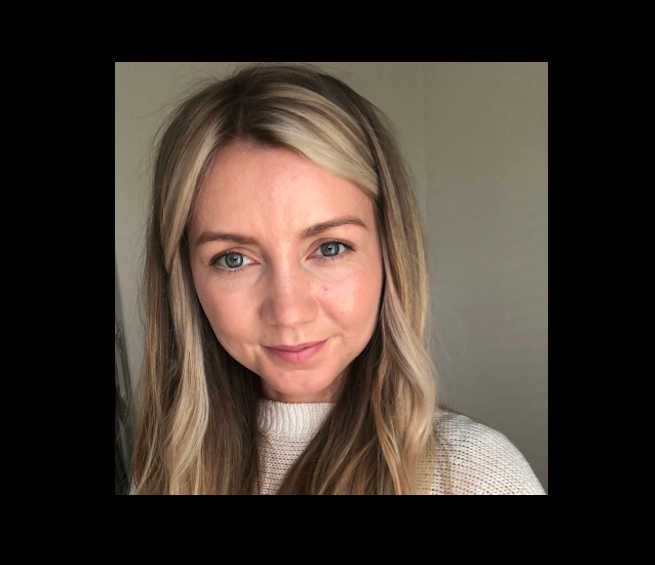 Men's hairdresser Mary
Choose one of the above hairdressers
and book your hair appointment online.
Alternatively please telephone: 0191 2619651
Men's hair price list
Gents Dry Cut £18
(Hair is cut dry or may be sprayed with water)
Gents Wet Cut £21
(Hair is washed, cut and then finger dried very quickly)
Cut with Wash & Blow-dry £40
(Usually for men who have long hair and don't just want the hair quickly finger dried)
Wash & Blow-dry £28
(Usually for men with long hair and who don't just want the hair quickly finger dried after the hair is cut.)
Hair colouring
Please note that with all the below the hair is simply quickly finger dried.
There will be an additional £28 charge if you would like your hair e.g. blow-died with a brush/ironed.
Most men will usually choose to have the hair just quickly blasted with the hairdryer at no extra charge.
Cut & Colour £48
Cap or painted on hair Highlights with Cut £48
Foil Highlights with Cut £58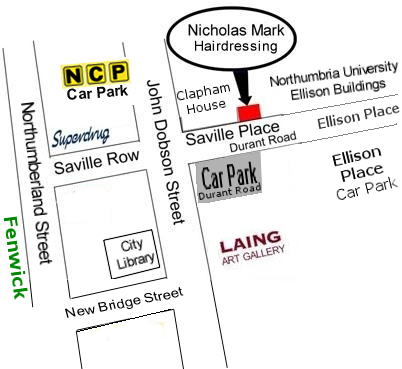 Nicholas Mark Hairdressing
5 Saville Place, Newcastle upon Tyne NE1 8DQ
Telephone: Tel: 0191 2619651
Directions: The hair salon is in Newcastle city centre just 2 minutes from Northumberland Street. Find Superdrug on Northumberland Street, walk into Saville Row, cross the traffic lights at the end of Saville Row, walk straight past Clapham House, go up the brick steps or the side path and you will find the Salon at 5 Saville Place.
For more directions please see how to find the salon.


Nearby Metro stations
Both Newcastle city centre metro stations are very close to the salon.
The salon is just a 4 minute walk from the Monument metro station and a 3 minute walk from the Haymarket metro station.
Undercut hairstyle for men
Here Greg has cut the sides short all the way up to the temples. With an undercut the hair on top can be worn either long or short.
Haircut terms used by barbers
Choppy - For this type of haircut barbers cut the hair at different lengths with the point cutting technique. This is done by holding the scissors almost parallel to the hair when cutting. Point Cutting removes bulk from the ends and gives texture to the hair as the hair ends are cut at uneven lengths.
Club Cutting - Unlike point cutting with this technique the hair is cut straight across leaving the ends blunt. This technique is used when texture is not required.
The crop or French crop has been very popular. It usually consists of a very short haircut which has been scissor cut on the top and clipper cut on the sides. The fringe is usually cut high and blunt.
A haircut is disconnected when a part of the hair is cut at a different length from another adjacent part with no blending. Modern undercuts are often disconnected, unlike undercuts from the 90's where the hair was faded without a blunt disconnection.
Hard side parting - To create a hard part/parting, the hairdresser will use the bare trimmer or clipper blade to shave in the parting to make it more noticeable.
Pompadour - This hairstyle has a high quiff rolled back off the forehead
Skin fade - With a fade the hair is cut to expose the scalp at the nape and sides. A high fade is where the hair does not slowly fade out until it reaches the hairline but instead, the scalp is exposed higher up e.g. near the temples or occipital bone.
Edging - This is where the hairdresser will use the corner of the hair trimmer to cut clear edges around the neckline, ears, sideburns, temples and often the forehead.
With the clipper over comb or scissor over comb technique, the barber can achieve a short cut with a softer finish. When clipper guard attachments are fitted to the clippers, the result is a more uniform haircut.